Simpang Pulai to Kuala Berang Road Project
(Perak - Kelantan - Terengganu)

LOCATION OF THE PROJECT
The proposed route runs through the states of Perak, Pahang, Kelantan and Terengganu,
starting at Simpang Pulai and traversing through the main range at Lojing, and ending at Kuala Berang.

PROJECT SCOPE OF WORK
The total distance of the proposed road is 313.66 km, excluding the 41 km existing road from
Gua Musang to Chiku, Kelantan. The road is designed to JKR geometric standard of R3
with a design speed of 50 km/h.

In terms of riding comfort, this R3 standard falls in between the R5 or R6 standard for
expressway (typically with a design speed of 80-110 km/h) and R1 or R2 standard
such as the winding hilly road (typically with a design speed of 20-30 km/h).

Typically, the road is a two-lane single carriageway with a lane width of 3.5m and shoulder
width of 2.5m. Climbing lanes are also provided at certain sections with steep gradient, to
assist slow moving vehicles. The project also involves the construction of viaducts, bridges
and culverts.

ESTIMATED COST
The entire project is estimated to cost RM1.6 billion and divided into 10 packages for implementation.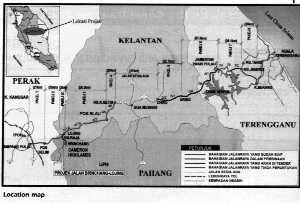 Click to see bigger plan.