Kuala Lumpur Sentral (NOT Central) Station Development

Kuala Lumpur Sentral Station
Source: Project press briefing, 19/07/2001

In March 1997, a contract was awarded by Kuala Lumpur Sentral Sdn Bhd (KLSSB) for the design and construction of the new Kuala Lumpur Sentral development.

General description

In the heart of the Malaysian capital Kuala Lumpur, an ambitious plan to create a green city within a city where people can live, work and play is being realised on a 29ha site dubbed Kuala Lumpur Sentral. At the core of this grand scheme is Kuala Lumpur Sentral Station (KLSS), a transport hub which will serve the commuter, light and express rail services linking the city with the rest of Malaysia, including the new international airport.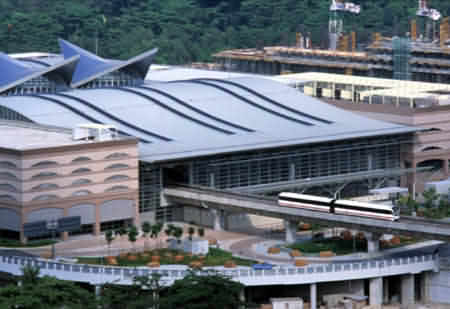 Photograph of Kuala Lumpur's new Sentral Station
The project encompassed the design and construction of the station itself including the railway works, three decks which will support future commercial developments around the station, access roads to and from the station, and a maintenance depot for KTMB, the Malaysian state railway operator. It is situated on a 72 acre site in the Brickfields area of central Kuala Lumpur, the site of the former KTMB marshalling yard, which is crossed by three existing electrified railway lines.

An important requirement of the contract was that existing rail services passing through the site had to be maintained and not disrupted during construction.

Malaysian firms, Ekovest and KMZ, was awarded a M$714M ($188M) design and construct contract for KLSS. It covers six elements: a 479,000m3 station and access roads; a 30,000m3 maintenance depot; 18km of new rail tracks; and three decks with transfer plates which will support offices, an auditorium and two hotels.
KLSS will have 12 platforms serving the three rail services. At ground level will be the 10 tracks serving six State Railway lines, which include two intercity lines, four commuter lines; and four express lines. Two light rail lines will pass through at Level 3.
The new station is a transportation hub integrating three rail services: KTM Intercity and Komuter services; LRT light rail services; and the ERL Express Rail Link between Kuala Lumpur, Putra Jaya, and the new international airport. Airline check-in services are located at the station. It opened to the public for service in April 2001.

The area will be developed as a high-tech business and commercial district, with high and low rise buildings surrounding the station housing offices, retail, hotels, sports and cultural facilities.

Contract scope

The contract encompassed the following:

1. Design and construction of the Central Station and its access roads
2. Design and construction of a new railway maintenance depot
3. Design and construction of new railways
4. Precinct A: detailed structural design and construction of deck over railways tracks at West of station to support future office buildings
5. The Auditorium: detailed structural design and construction of deck over railway tracks at East of station for future multi-purpose auditorium
6. Precinct F: construction of deck at North of station to support two hotels

The Station

The central part of the six-storey high station building, covering the railway lines, platforms and concourses, is a curvilinear tubular steel structure clad by insulated profiled metal decking.

The Transit Concourse forms the central spine of the station and is roofed over with three feature roofs, each comprising a laminated timber effect dome with Islamic geometry, under a glazed oval cone supporting a hyperbolic parabolic stainless steel clad roof. The floor of the concourse consists of granite arranged in Islamic geometry. The Main Concourse has a similar floor pattern to the Transit Concourse and is enclosed on its North side by an inclined, faceted laminated glass wall supported by a tubular steel structure.

At the North of the Station is a four-storey reinforced concrete structure externally clad in granite. This accommodates offices and retail outlets. At the South of the Station is a six-storey reinforced concrete structure externally clad in granite. It accommodates offices for ERL (Express Rail Link) and car-parking for 820 cars. The facades at the East and West are curtain-walling.

The deck areas

The deck consists of a concrete slab 8 metres above the railway tracks. Most areas have been built using pre-fabricated hollow core pre-stressed slab sections. In the station concourse area these are supported by 30 metre long steel beams.

The depot

The depot is located below the deck at the North part of the station (Precinct F) and houses engineering workshops for KTMB. The main maintenance area is a single storey reinforced concrete construction compartmentalised as required. Ancillary accommodation for offices is housed in a two-storey reinforced concrete structure.

Working with operational railway lines

The main difficulty of the project for the contractor was the requirement that three existing electrified railway tracks were kept operational throughout the construction period, except for a few hours during the night when the 25Kv catenary system feeding the trains could be disconnected. These tracks created a 20 metre wide railway 'safety' corridor, running through the middle of the site. This difficulty was addressed in the following ways:
In order to keep to the programme for completion of the station itself, installation of the 30 metre long steel beams for the station deck took place at night during the isolation period.
The existing tracks were diverted one by one to their final location under the station deck. Once the new track area and deck above was ready, the line was diverted and construction could then proceed in the area freed up.
An additional challenge was that work had to be completed simultaneously along the 1.5 km length of the deck before the diversion could take place.
A fourth electrified line, the LRT, passes through the site on an elevated guide-way at level 3. In order that construction could proceed above the line, a steel 'tunnel' structure was built over it.

SUMMARY OF KEY FACTS

Client: Kuala Lumpur Sentral Sdn. Bhd. (KLSSMB).
Main shareholders: KTMB (Malaysian State Railway Corporation), and MRCB (Malaysian Resources Corporation Bhd).
Main contractor: Dragages Malaysia Berhad as leader of the EKD Joint-Venture with Ekovest Bhd and Syarikat KMZ.
Contract value: 910 million Ringit
Architectural concept: Kisho Kurokawa Architects & Associates
Architects: Liang Peddle Thorp/MAA (design of station and depot)
Perunding Alam Bina
Client's Project Manager: Bovis Lend Lease
Client's architect and
Structural Engineers: RSPA (design of Precinct A & F)
Design consultants: Meinhard (station and depot structure)
Robert Benaim (auditorium deck structure)
Norman Disney and Young (M & E)
Systra/SNCF (railways)

Key Dates
Contract award: March 1997
Start of works: April 1997
Opening of station: April 2001
Project completion: Last quarter 2001

Quantities
Site area: 160,000 square metres (1.2km long)
Rail tracks: 18 km
Overhead live electrification: 7 km
Deck area: 115,590 square metres
Station constructed area: 112,140 square metres
Piles: 2,600
Concrete (excluding piles): 246,400 cubic metres
Rebars: 28,600 tonnes
Structural steel: 1,400 tonnes
Stainless steel HP roof: 1,750 square metres
Steel roof: 18,000 square metres
Suspended glue
laminated domes: 3 units, 20 metres diameter each
Imported granite: 30,000 square metres
Mega bits optic fibre line: 2 km
Lifts: 17 lifts
Escalators: 24 escalators
Facades: 8,000 square metres
Main plant: 8 tower cranes
Workers at peak: 2,000 (October 99 – Feb 2000)

Last up-date July 2001