1998 Budget Highlights
Appendices to 1998 Budget (details of tax structure, % tax, incentives, etc)

October, 1997

---
Aiming for 7% growth
The Ministry of Finance in its Economic Report for 1997/98 projects a moderate 7% growth in 1998 while per capita income is expected to rise by 5.7% to RM12,797. Inflation is likely to remain low because of slower growth in domestic demand and the pursuance of fiscal discipline and monetary restraint. The depreciation of the ringgit is not expected to push up the price of imports significantly.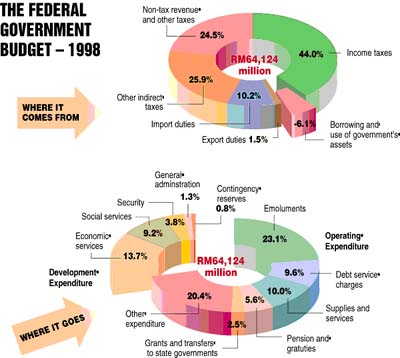 An immediate challenge for all
The Finance Minister is of the opinion that the immediate challenge we now face is to bring back investors' confidence and restore stability in the markets.
RM8.95b surplus expected
The Government projects to record a larger overall budget surplus of RM8.95 billion or 3.2% of the GNP next year compared with RM5.06 billion expected in 1997.
Global trade growth expected to rise to 7.7pc
World trade growth is expected to rise to 7.7% this year and this is attributable to robust economic activities in the US and Britain and strong internal trade performance among EU economies.
Challenge lies in keeping strong, sustainable growth
The longer term challenge for the Government in managing the economy remains maintaining strong but sustainable growth while strengthening further the foundations of macroeconomic stability. Amid strong fundamentals seen this year, such as growth expected at 8% and a lower current account deficit (CAD) together with a public sector surplus fiscal position, the economy was not spared the effects of speculative attacks on the region's currencies and stock markets.