MARINE PILING SYSTEM (continued)
Construction
The actual sequence of construction operations is as follows:
a) The pile holder positions the pipe pile.
b) Suspended hammer is mounted on top of the pile, which is driven to satisfy bearing capacity and to the required depth.
c) Propelled forward by the carriage, the system moves over the piles already driven to the next location for pile driving.
d) Structural deck erection is accomplished between lines of piles using the carriage and crane system.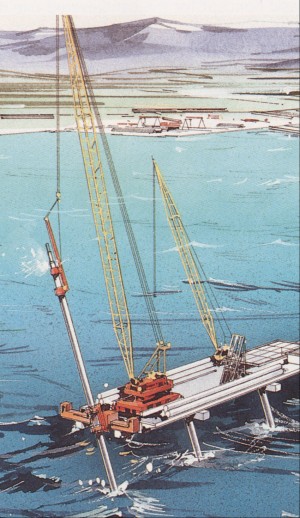 Deep Sea Jetty Construction
4. Prototype Project
The commercial viability of the system was confirmed by putting it into practical use in 1985 at the New Products berth which was constructed at the Chiba Works of Kawasaki Steel Corporation. This project was designed to accommodate 80,000 DWT vessels. The photograph below illustrates the system being utilized at Chiba, Japan.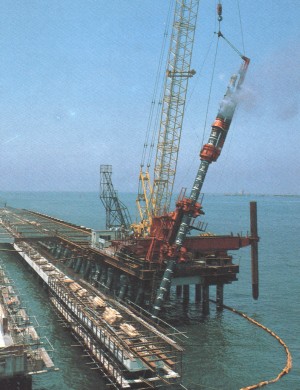 Pile Driving at Chiba, Japan
5. Future Applications
This innovative system is expected to find wide acceptance in applications involving construction of offshore structures and port and harbor facilities including loading and unloading jetties, piers and wharves.